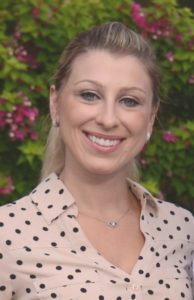 Dr. Anna Vaysman is an integral member of our team here at North Scottsdale Dental Studio, and as such, we wanted to take some time to help any patients who haven't had the chance to get to know her yet do just that. Below is a Q&A with Dr. Vaysman that can help you get a feel for what makes her so wonderful as both a dentist and a person.
Q: Where are you originally from?
Dr. Vaysman: I was born in Minsk, Belarus—part of the former USSR—but I moved to San Francisco at the age of four.
Q: Tell us a bit about your educational background.
Dr. Vaysman: I went to the University of California, Berkeley for undergrad, during which time I did a lot of tutoring and worked for the student learning center. I was actually awarded "Exemplary Tutor" in 2007/2008 while there. In addition, I worked for a lab studying stomatopods and octopuses with Dr. Roy Caldwell.
After graduating from UC Berkeley, I went on to obtain my Master's degree in Biomedical Sciences at Midwestern University, where I stayed to earn my Doctor of Dental Medicine as well. Throughout dental school, I did a lot of volunteering for various clubs and philanthropies, and I was the only student to remain on class counsel for all four years.
Q: Why did you decide to become a dentist and practice in Scottsdale?
Dr. Vaysman: I always knew I was going to be in the healthcare industry. I was pre-med in undergrad and worked for an ophthalmologist as her surgical technician. While assisting with LASIK surgery, I discovered I had good manual dexterity, and I decided to pursue dentistry. As far as ending up in Scottsdale, I just fell in love with it—the great food, peacefulness, and friendly people.
Q: What do you enjoy most about being a dentist?
Dr. Vaysman: I love changing people's perspective of dentists in a positive way, as well as witnessing the end result of a large cosmetic or restorative case. Seeing people be able to smile or chew again is the greatest part of being a dentist.
Q: In a nutshell, what is you patient care philosophy?
Dr. Vaysman: For each and every individual, I aim to provide comprehensive and thorough dental care with a focus on optimizing functional and cosmetic results. My goal is to do everything I can to make my patients happy following their treatment.
Q: What are a few reasons a patient would enjoy coming to see you?
Dr. Vaysman: I try to be as gentle as I can with every patient and their unique dental needs. I also try to make the visit more bearable for those who don't particularly like visiting the dentist. At the very least, I think I'm a little funny sometimes…hopefully my patients think so, too.
Q: What are you favorite procedures and/or areas of interest in dentistry?
Dr. Vaysman: Cosmetic dentistry is probably my favorite, including the ability to deliver a full mouth of cosmetic restorations and have the patient love their new smile. I also enjoy performing root canals in anterior teeth as well as full mouth extractions / denture delivery for periodontal patients.
Q: What is your favorite piece of dental technology to use?
Dr. Vaysman: CEREC® is my favorite due to the ability to provide dental crowns in one day. It also offers less discomfort and less hassle with temporary restorations, and there is a reduced chance of needing root canals with CEREC®–crowned teeth.
Q: In your opinion, what are some of the most significant breakthroughs in dentistry today?
Dr. Vaysman: Salivary testing, VELscope® oral cancer screening, ceramics with crowns, better aesthetics, and dental implants. It is amazing to be able to target decay at the source by figuring out that some people's saliva is just more prone to causing decay than others'. Being able to screen for oral cancer thoroughly and efficiently with VELscope® technology has also been a huge breakthrough, and the constant advances in dental cosmetics and implants is incredible.
Q: Are you involved in any community services or events?
Dr. Vaysman: I participate in both "Super Sealant Saturday" and "Give Kids a Smile."
Q: What do you enjoy most about working at North Scottsdale Dental Studio?
Dr. Vaysman: I love how fluidly the team works together. Everyone wants to do the best job they can to make the dental experience as smooth and comfortable as possible for the patient. Sometimes, I feel like everyone I work with can read my mind, and it's amazing how much each person tries to cater to making patients happy. I love that patient care is #1! Our specialists are incredible, and I would not change them for anyone. They stand by their work and do an amazing job.
To learn more about Dr. Vaysman, or if you would like to schedule an appointment with her, please do not hesitate to contact North Scottsdale Dental Studio today.
Previous Post
Next Post