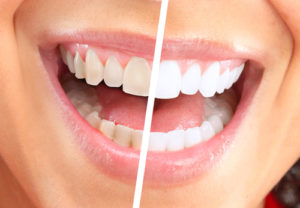 With the number of teeth whitening options available today, it can be hard to decide whether you should pursue an over-the-counter technique or professional treatment at a dental office to achieve the brilliant smile you desire. While both choices have proved to diminish stains and brighten teeth for the right individuals, there are a few key differences between over-the-counter and professional-grade methods that can help you determine which option may be more appropriate for your unique needs and goals. According to Dr. Todd Mabry – our experienced cosmetic dentist – the following advantages are typically uniquely afforded by in-office treatments:
A stronger whitening formula for faster, more effective outcomes
Custom treatment uniquely tailored to the individual's wants and needs
Reduced gum irritation due to a more controlled process and special components within the whitening gel
The expert care and supervision of a qualified dental professional for more efficient treatment and successful results
Ultimately, none of this is to say over-the-counter whitening techniques can't help people lighten the shade of their teeth. Depending on the extent of staining and/or discoloration, several of these available treatments certainly can for some individuals. That said, in order to help ensure an optimal whitening result is achieved in the safest, most effective way possible, a professional teeth whitening treatment performed by a qualified dental care provider is generally the best option.
Previous Post
Next Post