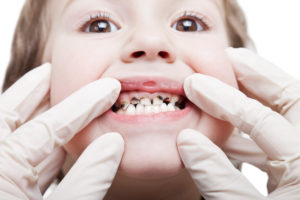 It's no secret that chronic stress during pregnancy can have a number of negative effects on the child, some of which may include a low birthweight as well as a heightened risk of developing asthma and certain allergies. According to a new study, another potential condition can be added to that list: cavities.
While poor dental hygiene habits and frequent consumption of sugar-rich foods and drinks certainly play a significant role in the cause of cavities in children, the new study – conducted by Dr. Wael Sabbah and several of his colleagues – suggests that the amount and degree of stress a mother experiences during her pregnancy is also influential in the development of these dental conditions. Using the data of 716 women and their children collected as part of the 1988-94 National Health and Nutrition Examination Survey (NHANES), researchers assessed biological markers of persistent stress throughout each mother's pregnancy while also recording the number of cavities her child(ren) developed. Other factors that were also taken into account includued each mom's socioeconomic status, how often the child visited the dentist, whether the mother breastfed, and more.
The findings showed that children of mothers who had two or more chronic stress markers were far more likely to develop cavities than children of mothers who had no signs of chronic stress. In addition, researchers discovered that the development of cavities among children who were not breastfed tended to be higher, and a reduced occurrence of breastfeeding was found among mothers with lower incomes. These women were also less likely to have taken their kids in for a dental visit during the year previous to the survey, as well as less likely to have their children eat breakfast each morning in comparison to women with higher incomes.
Ultimately, the researchers acknowledge that the study does not necessarily prove a mother's chronic stress during pregnancy directly causes her children to develop cavities, though the evidence found suggests that stress does play a significant role. As a result, they recommend making every effort to limit stressors as much as possible throughout pregnancy, as well as to adopt healthy habits like brushing your child's teeth, providing them with nutritious meals, and scheduling regular pediatric dental care visits once their teeth start to emerge.
Contact Us
If you have any questions about cavities, or if you would like to schedule an appointment for yourself or your child, please don't hesitate to contact our office today.
Previous Post
Next Post