Did You Know?
Dr. Mabry and Dr. Murphy have spent many years pursuing continued education in cosmetic and restorative dentistry, helping them to offer patients the most advanced techniques with exemplary results.
Over the years, there have been many advances in cosmetic dental care that help restore the teeth and improve their appearance. Porcelain dental veneers have been one of the most successful and effective examples of dental innovation. Dental issues such as chips, gaps, discolorations and malalignments among the teeth are very common. For many people, this can make them feel self-conscious about their smile and appearance. Porcelain dental veneers, available from our experienced Scottsdale cosmetic and restorative dentists, are designed to correct these imperfections.
What Are Porcelain Veneers?
Porcelain veneers are made of a strong ceramic material that is custom-made to fit the affected tooth. Unlike a dental crown, porcelain dental veneers cover only a portion of the tooth, enhancing the appearance of the teeth and serving as a reinforcement to the tooth's structure.
Porcelain dental veneers can be an excellent component to a smile makeover, having a remarkable effect on the overall appearance of a smile with results that can last for years. The placement of veneers can also be very effective at creating a more symmetrical smile and restoring aesthetic dental issues you may have wanted to address for a very long time.
What Are the Benefits of Porcelain Veneers?
Porcelain dental veneers are designed to both look and act like your natural teeth, helping to correct and improve the appearance of common dental imperfections such as:
Gaps/spaces
Chips or fractures
Malalignments
Discolorations/stains
Uneven spacing between teeth
Short, worn or fractured teeth
Our cosmetic dentist, Dr. Todd Mabry, will meet with you to discuss all aspects of porcelain dental veneers and answer any questions you may have. Together, you and your doctor will decide if treatment with porcelain dental veneers is the best option to suit your needs.
Who Is a Good Candidate for Porcelain Veneers?
Ideal candidates for porcelain veneers are those wanting to conceal cosmetic imperfections affecting the teeth visible at the front of their mouth. Before recommending veneers, your dentist will first consider more conservative treatments, such as teeth whitening. If other options cannot provide the level of improvement you desire, veneers may ultimately be advised. Additionally, if a more severe alignment issue is present, orthodontics like Invisalign® may first be recommended to straighten the teeth.
What Can I Expect in the Porcelain Veneers Procedure?
To begin the porcelain veneers process, the affected teeth will typically be prepared by removing the outermost layer of each tooth's surface. This ensures the teeth maintain a natural look and size once the veneer shells are placed. After the teeth have been prepared, an impression of your teeth is made, and the porcelain veneer will be created. The veneer is made of extraordinarily durable ceramic and is custom-designed to fit your tooth as accurately as possible. Your dentist will then bond the veneer to the tooth with a strong dental adhesive, and color-match it to the surrounding teeth so that it blends naturally. The result? A virtually undetectable correction for aesthetic and functional dental imperfections that can look both natural and beautiful.
How Do I Care for My Porcelain Veneers?
Maintenance for porcelain veneers is similar to caring for your natural teeth. You should practice good oral hygiene, with daily flossing and twice-daily brushing. Routine dental cleanings and exams are also important, as this allows your dentist to ensure your veneers are in good shape and have not suffered from abnormal wear or been damaged.
How Long Do Porcelain Veneers Last?
Porcelain dental veneers have been known to last many years, helping you to feel great about the look of your smile. On average, veneers should last around 10 years when properly cared for. To help make your porcelain veneers last as long as possible, you should avoid biting down on hard objects, such as chewing on ice or eating hard foods, as veneers are prone to chipping or cracking under extreme force. If you tend to clench or grind your teeth, you should ask about getting a custom mouth guard to sleep in at night, helping limit the impact of the habit.
Can Porcelain Veneers Be Whitened?
No, porcelain veneers cannot be bleached to be a whiter shade, but they should not stain over time, either. Since veneers are color-matched to the surrounding teeth, you may be interested in undergoing a teeth whitening treatment beforehand to achieve the bright smile you desire. Keep in mind, however, that your natural teeth can darken over time while your veneers will not. So you will need to maintain the same level of brightness as your veneers to preserve the natural-looking, evenly white smile you have achieved.
How Much Do Porcelain Veneers Cost?
The cost of porcelain veneers can range between $925 to $2,500 per tooth. This will vary for every patient due to a variety of factors, the foremost of which is how many veneers are necessary to attain one's smile goals. Additional factors that can have an effect on the expense of treatment include the geographic location of the practice, the experience and skill of the dentist, the particular materials used to fabricate the veneers, the complexity of the case, and whether or not the procedure is being performed in conjunction with another treatment. Before your treatment, our team will go over the fees associated with your veneers procedure, giving you a cost estimate to ensure you understand what to expect.
In the event dental insurance does not cover porcelain veneers, our practice offers dental financing options through CareCredit® in an effort to make this cosmetic solution a realistic option for all patients. With a variety of low monthly payment plans that have minimal to no interest rates, CareCredit can help make covering the cost of treatment much more manageable for virtually any budget. Our staff will be happy to review your insurance care coverage and/or get you started on the CareCredit approval process as soon as you are ready to proceed with treatment.
My experience with this practice has been totally positive. Every person in this group – from the receptionist to Dr. Mabry – is friendly, positive and concerned about each patient's comfort and knowledge of the procedures. Highly recommend to anyone wanting a positive experience with dentistry!
Are There Alternatives to Porcelain Veneers?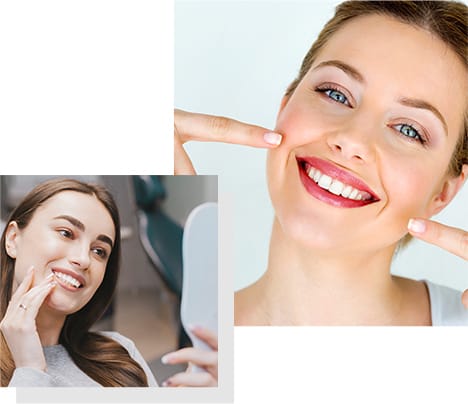 Whether you are not a good candidate for veneers or would rather opt for another solution, there are a variety of alternatives available that can help you enhance the look of your teeth. Dental bonding, for example, involves sculpting a composite resin material to the front of the affected teeth, which can help cover up cracks, discoloration, and gaps. Teeth whitening is another alternative that may be more appropriate for some individuals, as it can reverse stains and provide an overall brighter smile appearance. If you have severe damage to your teeth, dental crowns may be advised, as they can provide better correction of significant chips or cracks. For those seeking veneers as a way to straighten crooked teeth, orthodontic treatment may be more effective if the misalignment is more severe. Your dentist will go over all of your options during your appointment to help you find the best solution for your needs and preferences.
Additional Porcelain Veneer FAQs
Do Porcelain Veneers Hurt?
In order to prepare your natural teeth for veneers, your dentist will remove the outermost layer of tooth enamel from the affected teeth. The veneers process does require a small amount of reshaping or reduction of the original tooth, but most patients experience very minimal discomfort during the procedure.
Will My Teeth Be Sensitive After Getting Porcelain Veneers?
After receiving porcelain veneers, you may experience some temporary tooth sensitivity. There are many ways to alleviate potential discomfort and here are a few recommendations we tell our patients:
Brush your teeth with toothpaste designed for sensitive teeth (e.g., Sensodyne® toothpaste)
Rinse your mouth regularly with fluoride mouthwash
Temporarily avoid consuming food and beverages that are extremely hot or cold
Take over-the-counter pain medication
Tooth sensitivity following a dental veneers procedure usually fades within a couple of weeks. If your discomfort or sensitivity continues after two weeks, please contact your dentist so that they can further assist you.
Do Porcelain Veneers Stain?
Porcelain veneers are made from high-quality and stain-resistant ceramic material. Staining agents such as coffee and wine should not cause any discoloration; however, patients should maintain good oral hygiene and receive professional teeth cleanings at least twice a year to prolong the lifespan of the results. In addition, patients should know that just as porcelain veneers cannot be stained, they also cannot be whitened. If you desire whiter teeth, your dentist may have to replace your veneers. For this reason, make sure that you are happy with the color and whiteness of your teeth before your veneers are crafted and your dentist bonds them into place.
Are Porcelain Veneers Permanent?
Porcelain veneers can last numerous years, even decades, as long as the patient maintains good oral hygiene habits and receives routine dental cleanings. We use high-quality ceramic material to create veneers that are very durable, but that does not mean that they are indestructible. This is why dentists highly recommend a mouthguard for patients who regularly grind or clench their teeth to avoid damage to the porcelain veneers.
Contact North Scottsdale Dental Studio
For more information on porcelain dental veneers or to schedule an appointment, please contact North Scottsdale Dental Studio.