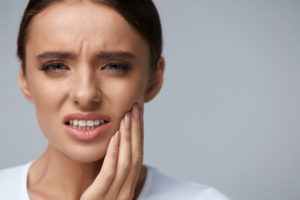 Dental emergencies can occur at any place or time, and immediate treatment is often essential to reducing pain, limiting damage, and/or preventing future complications. At North Scottsdale Dental Studio, our experienced dentists can assist you or your family member in a dental emergency, even outside of regular office hours. We are fully aware of the importance of timely evaluation and treatment in the event of an emergency, and our team can either treat urgent cases right away or refer you to someone in the area who can provide assistance as soon as possible.
The term "dental emergency" can be used to describe a variety of oral issues, including:
Intense tooth or gum pain
Blunt trauma to the mouth
Teeth that have been loosened or knocked out
Broken and/or severely damaged teeth
Extreme pain relating to the jawbone
An infection and/or tooth abscess
Acute tooth sensitivities to hot and/or cold temperatures
Bleeding in the gums that will not cease
These are just a few of the many instances that can be characterized as a dental emergency. If you or a loved one is experiencing a dental emergency of any sort, please do not delay in calling our office at (480) 582-1358.
Tips for Specific Dental Emergencies
Below, we have provided tips you can follow for a number of the dental emergencies listed above. Please note that these instructions are not meant to be solutions to the respective issues; they are recommendations for what you can do as you prepare to visit one of our dentists for urgent care.
Significant Tooth or Gum Pain – Swish warm water around your mouth and apply a cold compress to the outside of the mouth in the area of the discomfort.
Gums That Won't Stop Bleeding – Rinse with warm saltwater and apply light pressure to the bleeding area with a moist gauze pad.
Knocked-Out Tooth – If you can locate the dislodged tooth, rinse it using water only. Never try to reinsert the tooth into its former position, as doing so may lead to increased pain, further damage, or even infection. Instead, place the tooth in a plastic bag (or other safe container) and bring it with you to our office.
Chipped, Broken, or Damaged Tooth – Swish warm saltwater around the mouth, and if any bleeding is present, apply gentle pressure with a gauze pad to the affected area. A cold compress can also be applied to the outside of the mouth to help alleviate discomfort and/or limit swelling.
Intense Jaw Pain – Apply a cold compress to the area of discomfort and try to limit jaw motion.
Remember, immediate care is often vital to treating dental emergencies and limiting pain, further damage, and/or future complications. For assistance with your dental emergency, call (480) 582-1358.