What Are Dental Crowns?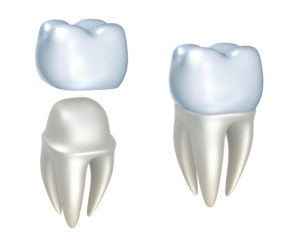 A porcelain crown is a custom-made restoration that is placed over the top of a natural tooth that has been damaged. This tooth-shaped cap is designed to cover the entire visible portion of the tooth, starting at the gum line. Crowns can effectively restore the shape, structure, and strength of the existing tooth, usually after the tooth has been fractured, had severe decay, undergone a root canal, or been weakened in some other way. In addition, porcelain crowns are used in dental bridges to support the artificial tooth filling a gap, as well as the dental implant procedure to complete the permanent tooth replacement.
Porcelain crowns at North Scottsdale Dental Studio can be crafted in one day using our advanced CEREC® milling technology. Each crown is fully customized to mimic the unique color, size, and shape of the patient's natural tooth, ensuring a comfortable fit and natural appearance.
What Are the Benefits of Porcelain Crowns?
The crown procedure is frequently performed by our dentists, Dr. Todd Mabry and Dr. Colleen Murphy and the restoration is highly advantageous for the right candidates. In general, patients who require a porcelain crown to reinforce a weakened tooth can expect the following benefits:
Improved tooth appearance
Stronger tooth structure
Restored function of the damaged tooth
Natural-looking results
Efficient treatment process
Long-lasting results
What Is the Dental Crown Procedure Like?
Step 1: To begin your dental crown procedure, your dentist will numb the area around the affected tooth. Any existing decay will be removed, and the remaining tooth structure will be prepared to ensure a secure fit with the custom-crafted crown.
Step 2: Your dentist will then scan the area with the CEREC® Omnicam, a digital imaging system that eliminates the need for messy putties traditionally used to create the mold. These 3D images are sent to our computer software to design your new ceramic crown.
Step 3: Once the design has been established, our in-office milling equipment is able to craft the restoration. Dr. Mabry and Dr. Murphy will then attach your crown to the prepared tooth for the completion of your crown procedure.
Dental Crowns vs. Veneers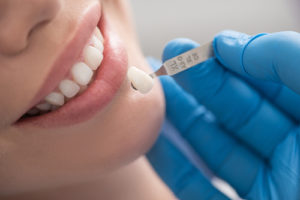 Porcelain crowns and porcelain veneers are both commonly used in dentistry to improve the shape and appearance of a tooth. Although each porcelain-based restoration can address issues like cracks and chips in a tooth, they have different underlying purposes.
A porcelain crown covers the entire tooth to restore its form and appearance, helping reinforce its structural integrity and protect it from further damage.
A porcelain veneer is a thin shell that is placed over the front of a tooth to improve cosmetic imperfections like discolored, cracked, and worn-down teeth.
While veneers are primarily used to improve the appearance of teeth, dental crowns are more intended to restore the form and function of a damaged tooth.
How Much Do Porcelain Dental Crowns Cost?
The amount you can expect to pay for your new porcelain crown will depend upon your unique needs. Since the details of the procedure are customized for each individual, the total cost will typically vary from case to case. Factors that may alter your cost include how many crowns are needed and if preliminary work is required, such as root canal therapy. Once your dentist has had the opportunity to examine your dental needs and create a treatment plan, our staff will provide you with a cost quote, help you determine if your insurance will cover any part of your cost, and discuss your dental financing options.
How Long Do Porcelain Dental Crowns Last?
Although crowns can last a lifetime for some patients, it is not uncommon for them to come loose after several years of wear. To help you maintain your porcelain crown for as long as possible, it is important that you practice good oral hygiene. This includes daily flossing, brushing twice per day, and attending routine dental cleanings and exams. In addition, when you avoid chewing overly hard foods, such as ice, you can help prevent premature wear and potential damage to your restoration.