Whether it's in a social or business setting, a radiant, white smile can make a lasting impression on those around you. At North Scottsdale Dental Studio, our experienced dentists—Dr. Mabry and Dr. Murphy—offer two professional-grade teeth whitening options that can brighten your teeth by several shades with long-lasting, natural-looking results. Designed to diminish various stains and discolorations that can build up on the surface of the teeth over time, our in-office and at-home whitening treatments can greatly enhance the overall appearance of your teeth while helping you achieve a smile you feel confident to show off.
What Are the Advantages of Professional Teeth Whitening?
Despite strict adherence to conventional oral care recommendations, many individuals still notice some degree of yellowing and/or staining on their teeth over time. These discolorations are generally the product of several different factors, including the consumption of particular foods and drinks (such as berries, coffee, and tea), the use of tobacco, and even the natural process of aging. Professional teeth whitening is designed to remove surface and deep-set stains to reverse discoloration and lighten your teeth by several shades. Whitening treatments provided by a cosmetic dentist are also considered the fastest, safest, and most effective method of brightening your smile—plus they won't damage your teeth!
What Are the Different Types of Teeth Whitening?
Venus White® Max In-Office Whitening
Venus White® Max is an in-office treatment that employs an innovative whitening gel containing specialized ratios of hydrogen peroxide gel and potassium nitrate, the latter of which helps to minimize any potential sensitivities. During the procedure, one of our dentists will first apply a light-activated gingival barrier to protect the gums. Next, the advanced Venus White® Max gel is spread onto the teeth, at which time the product's whitening molecules attach to the surface of stains and penetrate into the enamel and dentin of the teeth. Once this occurs, the whitening molecules work to dissolve and lift the stain, ultimately revealing a brighter, whiter smile. For optimal results, approximately three to four treatments may be necessary, and the in-office procedure should typically be followed by the utilization of customized take-home trays.
At-Home Teeth Whitening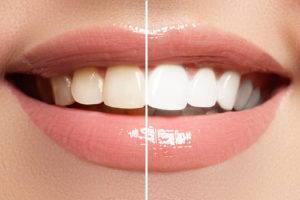 For patients who wish to whiten their teeth at home, our dentists can provide individualized take-home trays for use at their own convenience. This treatment involves a series of whitening trays that are to be worn for certain periods of time each day (as instructed by Dr. Mabry or Dr. Vaysman) until the desired outcome is attained. With this advanced technique, initial results often appear relatively quickly, and the desired shade of white can generally be achieved after a few weeks.
Over-the-Counter vs. Professional Teeth Whitening
There are so many over-the-counter whitening products available that many of our patients ask why they should choose a professional teeth whitening treatment. While certain whitening products that are available over the counter such as whitening strips and bleaching pens may be able to provide satisfactory results for some people, professional teeth whitening treatments usually prove to be significantly more effective. Consisting of the highest-quality bleaching formulas available, these advanced whitening methods can be customized to make your teeth several shades lighter, often helping you achieve a brilliant, beautiful smile in much less time than over-the-counter alternatives. Professional teeth whitening treatments are also the safest way to whiten your teeth, since each treatment is designed and overseen by our dentists. Patients who experience gum or tooth sensitivity may find that professional teeth whitening treatments cause less irritation due to the ability of our dentists to control the strength of the whitening formulas. In addition, professional-grade whitening gels may contain ingredients such as potassium nitrate or fluoride, which can further reduce sensitivity.
Is Teeth Whitening Safe?
Teeth whitening treatment administered by a qualified cosmetic dentist is considered safe by the American Dental Association (ADA). If you are looking for reliable over-the-counter whitening products, check for the ADA Seal of Acceptance before purchasing them. Ultimately, though, one of the safest ways to approach teeth whitening treatment is by consulting your dentist since they can recommend a treatment plan customized to your needs and goals.
How Can I Reduce Tooth Sensitivity After Whitening?
It is not uncommon for patients to experience tooth sensitivity during and/or after teeth whitening treatment. Here are some tips that can help alleviate your discomfort after your in-office whitening session or while you are using our at-home bleaching kits:
Brush your teeth with a soft-bristled toothbrush
Use toothpaste designed for individuals with sensitive teeth (e.g., Sensodyne® toothpaste)
Rinse your mouth with fluoride mouthwash regularly
Temporarily avoid consuming food and beverages that are excessively hot, cold, or high in acidity
Reduce the amount of bleaching gel in your whitening tray
Limit the frequency of your whitening treatments
Tooth sensitivity should gradually subside 24 to 48 hours after whitening sessions. In the unlikely event that your symptoms last longer, please call your dental office for further assistance.
How Much Does Teeth Whitening Cost?
The price of your teeth whitening treatment will vary depending upon which professional whitening method you choose. On average the cost of a professional teeth bleaching typically ranges from $300-$900 in the U.S. During your initial appointment, your dentist can provide you with the exact cost of your custom-tailored treatment.
How Long Do Teeth Whitening Results Last?
Teeth whitening cannot provide permanent results; however, there are a number of recommendations our dentists tell our patients to extend the longevity of newly whitened teeth. Avoiding foods and beverages that are known to stain the teeth can help prolong the results of whitening treatment. Patients should also avoid all tobacco products. When patients feel that their initial results are beginning to dull, periodic touch-ups can be performed with at-home kits or an in-office visit to restore the ideal shade of white. If you are interested in a longer-lasting, more permanent whitening solution, check out our page on porcelain veneers to learn how this cosmetic treatment can conceal even the deepest of stains and yellowing for a beautiful smile that can last decades.
How Often Should I Whiten My Teeth?
It is often recommended for patients to schedule touch-up whitening sessions every four to six months. However, the frequency of teeth whitening treatment may depend on a patient's lifestyle habits, whitening goals, and sensitivity levels. Patients who smoke and/or regularly drink beverages that are known to stain their teeth may need more frequent sessions for their teeth to maintain the desired shade. Dentists usually recommend less frequent whitening treatments for patients who regularly experience uncomfortable levels of tooth sensitivity after sessions. If you are uncertain about your treatment regimen, your dentist can help you decide how often you should whiten your teeth.
What Is the Best Teeth Whitening Option for Me?
Both Venus White® Max in-office whitening and professional-grade at-home kits can effectively brighten and lighten teeth. For patients who are looking for immediate results, Venus White® Max may be the better option. Many patients who choose in-office whitening have an important event in the near future, such as a graduation, wedding, or reunion. Patients who prefer the convenience of whitening in their own homes may prefer the at-home kits. At-home kits may also be a more cost-effective method of whitening the teeth for patients who are less concerned with achieving results in a short timeframe. An appointment at our office is the best way to determine which whitening option is best suited for you. After an oral exam and a discussion of your personal expectations, your dentist will recommend which type of teeth whitening can achieve your cosmetic goals.
Teeth Whitening Additional Frequently Asked Questions
Does Teeth Whitening Hurt?
Teeth whitening generally does not hurt, but in some cases, it can cause sensitivity. As mentioned above, patients can experience some degree of tooth sensitivity after receiving their whitening treatment. Typically, this discomfort will dissipate within the first few days of the teeth whitening process.
Can Tooth Restorations Be Whitened?
Tooth restorations, including dental bonding, tooth-colored fillings, crowns, and veneers, do not respond to teeth whitening treatment. If you would like your tooth restorations to be whiter, your dentist may need to replace them. This is why dentists usually recommend teeth whitening treatment before tooth restorations.
What Should I Eat After Teeth Whitening?
Teeth often have a higher risk of staining following a teeth whitening treatment. After the whitening process, patients should try to limit, or completely avoid, items like coffee, tea, red wine, tomato juice, dark berries, soy sauce, chocolate, and cola. Safe foods and drinks that typically don't have any staining effect include chicken, white fish, white cheeses, skinless turkey, and low-fat milk.
Can You Whiten Teeth When Pregnant?
While there is no definitive evidence that suggests teeth whitening treatments are a dangerous activity for pregnant women, it is often recommended that they wait until after the baby is born to utilize such services. The ingredients commonly used to whiten teeth contain certain chemicals that women may want to avoid exposing to their unborn children. Additionally, some patients experience tooth sensitivity after teeth whitening treatment which may add to the discomfort already associated with pregnancy. Our team can answer any questions you may have about teeth whitening at your consultation.
Contact Our Practice
To learn more about professional-grade teeth whitening, or if you are interested in scheduling an appointment at North Scottsdale Dental Studio, please contact us today.