What Are Dental Implants?
For many individuals seeking to replace missing and/or severely damaged teeth, implant dentistry is regarded as the premier solution. Designed to mimic a natural tooth root, dental implants are tiny titanium posts placed strategically in the space left by the former tooth or teeth. Over time, these posts fuse to the jawbone, creating a strong foundation for customized crowns to be secured in place for a natural-looking result. Depending on the patient's unique needs, dental implants can also be used to secure dentures and/or dental bridges for improved function and stability of these restorations.
You can significantly improve both the appearance of your smile and the function of your teeth with dental implants. These permanent replacements hold a number of benefits over traditional dentures, eliminating many of the problems often associated with them. Dental implants are designed to mimic your natural teeth, improving your ability to speak and chew while enhancing the appearance of your smile.
Dr. Todd Mabry and Dr. Colleen Murphy are experienced restorative and cosmetic dentists in Scottsdale who can provide you with a beautiful dental implant restoration. Once you have your implants placed, our dentists can restore them with a natural-looking porcelain dental crown, helping you to obtain effective missing teeth replacement with permanent results.
Did You Know?
With dental implants, you will likely not even be able to tell the difference between your new teeth and your existing teeth – and neither will anyone else
What Are the Benefits of Dental Implants?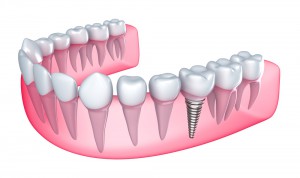 Dental implants can resolve a number of issues caused by missing teeth, and can serve as a great improvement over traditional teeth replacement treatments. Advantages of dental implants include:
They are permanent
No movement or slippage inside the mouth
Improved appearance of your teeth and your smile
They look and feel like natural teeth
Improved chewing, speaking, and biting
No maintenance required other than brushing and flossing and routine dental care
What Are My Dental Implant Options?
Dental implants are a versatile teeth replacement option. Since every patient has unique oral needs, there are a number of options available to provide the most beneficial solution for their missing teeth. Our dentists offer restorations for the following types of dental implant procedures.
Single Tooth Implants
Patients only missing one tooth can benefit from a single dental implant. This option involves placing a titanium post to replace the natural tooth root, which then has a dental crown attached to the top, completing the tooth replacement. This is an independent method of tooth replacement that does not require altering the adjacent teeth for support, such as with traditional bridges.
Implant-Supported Bridges
For those missing multiple teeth next to each other, a solution like the implant bridge may be more beneficial. This involves the placement of about two dental implants to secure a multi-tooth restoration. With these strategically placed implants, patients can obtain the benefits of dental implants without the need to replace each tooth with its own implant.
Implant-Supported Dentures
When an entire arch of teeth is missing or severely damaged, an implant denture is often the recommended solution. After at least four implants are placed in the jaw (such as in the All-on-4® procedure), our dentists can place a custom-crafted denture to the implants, creating a secure foundation without the inconveniences of traditional dentures.
Mini Dental Implants
Because of inadequate jawbone density or other factors, some patients may not be candidates for the full dental implant procedure. However, mini-dental implants (MDI's) may be an effective alternative. These FDA-approved treatments are designed to provide extra stability and support to dentures. Mini-dental implants serve as an artificial tooth root, ultimately reducing the potential for denture looseness or slippage. The procedure is minimally invasive, and can often be performed in just one office visit. Mini-dental implants can provide you with terrific results and help dentures look and feel like natural teeth.
What to Expect from the Dental Implant Procedure
Step 1: The Planning Process
The dental implant process begins with an oral evaluation to determine your candidacy for the procedure. If dental implants are a good option for your unique needs, the surgical plan will then be created to ensure the most predictable outcome.
Stage 2: Placing the Implant
The next step of the procedure will be to have the implants placed. It typically takes a few months for the implants to complete the fusion process necessary to become a permanent part of your mouth. During this period, a temporary crown will cover the implant.
Step 3: The Final Restoration
The final stage of the dental implant procedure is the creation of the permanent dental crown. Dr. Mabry will have the porcelain crown custom-designed for the implant. It is made for the best possible fit, and is color-tinted to match your surrounding teeth. This final touch to the implant process completes your procedure, providing you with a permanent, natural-looking new tooth.
Should I Replace My Dentures with Dental Implants?
Denture replacement with a new set of dentures, dental implants, a fixed dental bridge, or a combination of dentures and implants can provide you with a significantly improved amount of reinforcement and effectiveness. With denture replacement, you can prevent your dentures from moving or falling out while chewing or speaking. In fact, many denture replacement techniques will eliminate the possibilities of slippage while enhancing the natural appearance of your teeth.
How Long Do Dental Implants Last?
The dental implant posts are designed to last for decades. When cared for properly, and placed by a qualified professional, patients should be able to enjoy the benefits of their implants for a lifetime. Since restorations are more susceptible to gradual wear over time, it is not uncommon for dental crowns or other artificial teeth to need to be replaced after several years. Our dentists will advise you on how to care for your implants and restorations, helping you to minimize damage over time.
How Much Do Dental Implants Cost?
The average cost of a single dental implant is approximately $3,000 to $4,500. This total will vary based on several different factors, chief of which is the number of implants needed to replace one's missing or damaged teeth. Additional components that can impact the overall expense of treatment include where the practice is located geographically, the skill and expertise of the dentist, whether or not tooth extraction and/or bone grafting is required, the particular restoration being secured to the implant, and the quality of materials/technology used to perform the procedure.
For women and men interested in dental implants at our practice, one of our cosmetic dentists will first conduct a thorough dental examination to determine if this restorative treatment would be the most appropriate and beneficial option. In the event dental implants are the right choice, they can then provide an approximate estimate of the total cost based on the specifics of the suggested plan for treatment.
To help make dental implants as affordable as possible, North Scottsdale Dental Studio offers dental financing and payment plan options through CareCredit®—a trusted third-party medical care lender. With numerous low monthly payment plans and little to no interest rates, CareCredit® can help make dental implants a realistic treatment for almost any budget. Our team will gladly review your insurance coverage and/or help you begin the CareCredit® approval process as soon as you are prepared to move forward with treatment.
Contact North Scottsdale Dental Studio
For more information on solutions for missing teeth, including what you can expect for your total dental implants cost, please contact North Scottsdale Dental Studio today.