About Peter Mpantas, DMD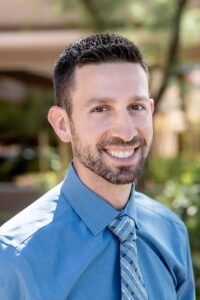 Dr. Peter Mpantas, pronounced "Bond-Oss", is a general and cosmetic dentist who ranks patient comfort, compassionate care, and exemplary results among his highest priorities. His wealth of expertise, friendly demeanor, and skills with a wide range of dental treatments and procedures make him another welcome addition to our wonderful team here at North Scottsdale Dental Studio. Dr. Mpantas is adept with an array of both general and cosmetic dentistry treatment options, including tooth-colored fillings, dental implant restorations, and procedures to reduce the effects of TMJ Disorder.
Prior to receiving his dental degree, Dr. Mpantas earned his Bachelor's degree in Chemistry from the University at Albany. He then received his DMD degree from Tufts University School of Dental Medicine in Boston, and went on to complete his General Practice Residency at Brookdale Hospital in Brooklyn, New York. He is a member of the prestigious American Academy of Cosmetic Dentistry, as well as the American Dental Association, the Arizona Dental Association, and the Seattle Study Club.
Originally from Long Island, New York, Dr. Mpantas's dedication, strong work ethic, and attention to detail were inspired by his father, who worked as a contractor, and his sister, a dental hygienist. He ultimately recognized that dentistry was an exciting blend of both science and art, and Dr. Mpantas' ability to help patients transform the health and appearance of their smiles while restoring their confidence has made the dental field a very rewarding career.
Dr. Mpantas and his wife, Leslie (a Periodontist), plus their beloved Labrador Retriever ("Butters") moved to Arizona to be closer to family. In his spare time, he likes being with his family, hiking, playing golf, and rooting for the New York Islanders (he is a big fan of hockey). Also, you can call him "Dr. Peter"!