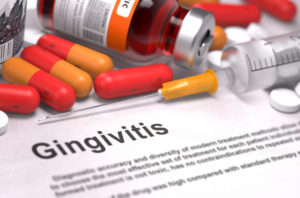 Gingivitis is a term meaning inflammation of the gums. Characterized by red, puffy gums, this condition is a non-destructive form of periodontal (gum) disease, though if left untreated, it can often develop into a more serious concern known as periodontitis. Should it reach this stage, issues such as gum recession and tooth loss may occur.
The most common signs and symptoms of gingivitis can include:
Bright red and/or purple gums
Gums that are tender or even painful
Bleeding of the gums during brushing and/or flossing
Chronic bad breath (halitosis)
Puffy, swollen gums
Recession of the gum line
In both children and adults, gingivitis is most frequently caused by the buildup of bacterial plaque in between and/or around the teeth. This plaque accumulation often stimulates an immune system response, which eventually may lead to the destruction of gum tissues and additional complications. Another common cause of gingivitis is dental plaque, which is a naturally accumulating biofilm that typically forms when bacteria are trying to stick to the surface of the teeth. Although many dental professionals believe dental plaque might actually help protect against the colonization of detrimental microorganisms, it is also known to cause tooth decay and can lead to gingivitis. Other potential causes of gingivitis may include hormonal changes, particular medications, smoking, genetics, and certain diseases.
The good news is, gingivitis can often be easily prevented and/or treated before it progresses into periodontitis. In addition to receiving professional teeth cleanings two times a year, correctly brushing and flossing at least twice a day can be an excellent way to discourage the buildup of harmful plaque on the teeth. Should gingivitis still develop, advanced periodontal treatments such as laser gum treatment and deep scaling/root planing are generally able to help remove detrimental bacteria and limit further harm to both the teeth and gums.
Contact North Scottsdale Dental Studio
For more information about preventing and/or treating gingivitis, or if you would like to schedule an appointment at our practice, please contact us today.
Previous Post
Next Post