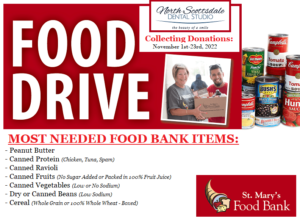 Kicking off November in the spirit of giving back, our team at North Scottsdale Dental Studio will be partnering with St. Mary's Food Bank. Dr. Todd Mabry and his team of dentists have always aimed to create a welcoming environment, treat our patients with the absolute best care possible, and provide life-changing results. Their efforts are not limited to providing top-notch dental care to their patients. This mindset carries over to the Scottsdale community and its members, prompting them to team up with St. Mary's Food Bank this year. 
Wanting to create more of an impact, the members at our practice will be running a food drive from November 1st to the 23rd, ahead of Thanksgiving. The list of most needed food items includes peanut butter, canned protein (chicken, tuna, spam), canned ravioli, canned fruits with no added sugar and 100% fruit juice, low-sodium or no-sodium canned vegetables, low-sodium dry or canned beans, and whole grain or 100% whole wheat boxed cereal. Donations can be dropped off at our office. 
Contact us today if you want to know more about the November Food Drive or more about our practice.
Previous Post
Next Post