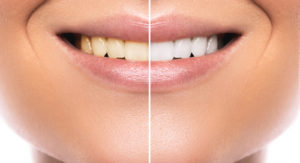 Sensitive teeth do not need to prevent you from achieving a whiter, brighter smile. If you are experiencing increased tooth sensitivity when using over-the-counter whitening products or undergoing professional bleaching treatments, our dentists at North Scottsdale Dental Studio have a number of tips that can help minimize this issue and improve your comfort.
Prior to beginning any teeth whitening treatment, patients can use toothpastes and mouthwashes that are specifically designed for sensitive teeth. These products can significantly reduce tooth sensitivity, especially when used with a soft-bristled toothbrush. Patients who choose at-home professional-grade whitening kits and continue to experience sensitivity may find that using the trays every other day is more comfortable than daily use. For in-office procedures, look for a practice that offers techniques designed to whiten teeth while simultaneously limiting irritation. For example, our dentists offer Venus White® Max, which contains advanced ingredients that help to greatly reduce any potential sensitivities during and after treatment.
Ultimately, teeth whitening under the guidance of a dental care professional is generally recommended for patients with sensitive teeth. Our dentists can help ensure you are not over-bleaching your teeth, and if the source of your oral sensitivity is caused by something other than the whitening product (such as a cavity), they will be able to make sure you receive the proper care.
For more information about teeth whitening, or to schedule an appointment with Dr. Todd Mabry or Dr. Anna Vaysman, please contact our office today.
Previous Post
Next Post