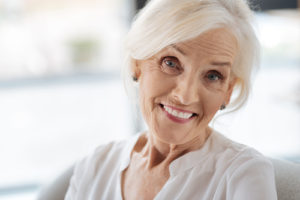 Porcelain dental crowns are used to restore the form and function of a tooth that has been damaged, decayed, or weakened in some other way. As such a common tooth restoration, many patients wonder how long they can expect their porcelain crown to last. In most cases, crowns can last for a decade or longer when cared for properly. However, it is not uncommon for the restoration to need to be replaced or recemented after several years of wear and tear.
To help preserve your porcelain crowns for as long as possible, our dentists recommend practicing good oral hygiene and visiting your dentist for regular cleanings and exams. Additionally, they advise against chewing especially hard foods, like ice cubes, to prevent premature damage from occurring. If you frequently clench or grind your teeth at night, this can also cause your crown to break or come loose, which is why our dentists recommend wearing a night guard to help limit potential damage.
More details about how long you can expect your porcelain crown to last will be discussed with you during your appointment. If you have any questions about your restoration, or would like further advice on how to ensure your crowns last for several years, please feel free to contact us.
Previous Post
Next Post