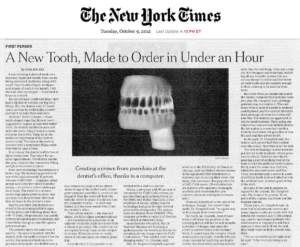 In the past, patients in need of a dental crown would need to schedule two visits with their dentist to complete their final tooth restoration. This allowed for the dentist to work with a lab technician for the fabrication of the new crown. As dental technology has continued to advance over the years, the sophisticated system known as CEREC® has allowed dentists to offer crowns in just a single visit. CEREC is a type of CAD/CAM machine that makes planning and milling a dental crown significantly more efficient as well as convenient for the patient.
While lab-made crowns are still regularly used today by many dentists, Dr. Todd Mabry is proud to offer patients the potential of CEREC® one-day restorations. Instead of patients needing to wear a temporary crown for two to three weeks while their final crown is being fabricated, Dr. Mabry is able to complete the entire process in about one hour. To begin the treatment, he will prepare the damaged tooth to allow for a precise fit with the new crown on top. Once this is complete, Dr. Mabry is able to take a 3D digital impression of the new tooth shape. This information is sent to the CAD/CAM machine to begin milling the crown from a block of the tooth-colored ceramic material.
CEREC crowns offer patients a quick solution for a broken or damaged tooth, without sacrificing the quality of results. Dr. Mabry believes using state-of-the-art technology like CEREC enhances his patients' overall experience with dental visits while providing enhanced outcomes. He has offered single-visit crowns for several years, making him incredibly experienced with crafting natural-looking restorations with the most secure and comfortable fit.
While CEREC crowns can be highly beneficial for most patients, the system is not an effective method of repairing teeth that have been broken or damaged below the gum line. In these cases, a more in-depth process may be required.
Previous Post
Next Post