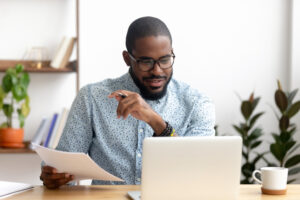 Choosing the right dentist is critical to receiving safe, top-quality dental care and optimal results. The following are five tips to follow when making this important decision.
Review Credentials and Experience – Take a look at your prospective dentist's biography page and any other resources you can find online that discuss his or her educational and professional background. Key elements that can help narrow down your search and provide you with a good idea of a dentist's reputation include how long they have been in practice, which societies they belong to, what awards or recognitions they have received, and how they are involved in the community.
Check Out Before-and-After Photos – Viewing a dentist's smile gallery can be a great way to evaluate the type of results he or she is able to achieve. In addition to showcasing actual dentistry before-and-after photos, many smile galleries reveal what the patient's initial dental concern was and how it was treated. This can be particularly beneficial if you have similar concerns and/or are considering the same treatment.
Learn About the Practice's Technology – Advanced technology can indicate that a dentist is committed to providing the most effective, efficient, and comfortable treatment experience possible. Some technologies to look for include CEREC® one-day tooth restorations, laser dentistry, digital impressions/x-rays, and digital cavity detection.
Read Patient Testimonials and Reviews – Discovering what others have to say about a dentist can give you an idea of the type of care you can expect to receive. Many dental websites have pages devoted to testimonials, and third-party review sites can provide several quality perspectives.
Ensure You Have Strong Rapport – Once you have done your research and selected a potential dentist, the final step is to meet them in person to make sure the two of you connect well. When it comes to oral care, you want a dentist with whom you are completely comfortable and can fully trust.
If you have any questions about our dentists or practice, or if you would like to schedule an appointment, please do not hesitate to contact North Scottsdale Dental Studio today.
Previous Post
Next Post