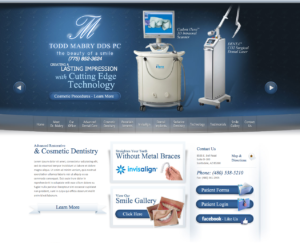 Dr. Todd Mabry and his entire team would like to welcome you to our new, state-of-the-art website! This virtual doorway into our Scottsdale practice can introduce you to what we have to offer and give you a thorough look at what to expect during your visit. Through our new website, you will find detailed descriptions of our philosophy of care, the cosmetic dentistry and advanced dental care procedures we offer, and much more.
Our experienced dental team is committed to exceptional patient care, and our new website can give you a small glimpse into the quality of treatment we strive to provide each and every person who walks through our doors. We wanted to make our site easily accessible, while providing up-to-date, reliable information that our patients can use as an educational resource. Throughout the site, you will find useful details on why our practice would be an excellent choice to help you reach your goals. You'll meet Dr. Todd Mabry, an experienced dentist who offers a comprehensive range of treatment options. Plus, for patients who have dental anxiety, we explain our sedation dentistry treatments designed to help you feel more relaxed and comfortable during your procedure. Along with descriptions of the many treatments we provide, our new website also includes patient testimonials, a look at our advanced technology, information about our team of dental professionals, and a before-and-after photo gallery.
Please take a look at the many features of our website and contact us today for more information, or to schedule an appointment. Dr. Mabry and his team look forward to hearing from you!
Next Post