Home

>
Meet Dr. Mabry
Meet Dr. Mabry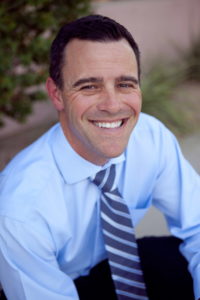 Dr. Todd Mabry earned his bachelor of science degree in biology from the University of Arizona in May 1995. He then graduated from Marquette University School of Dentistry located in Milwaukee, Wisconsin, in May 1999. After receiving his doctor of dental surgery (DDS) degree, he completed his residency in Southern California specializing in reconstructive and cosmetic dentistry. Upon completion of his studies, Dr. Mabry returned home to Arizona and opened his Scottsdale practice in March 2003.
Dr. Mabry was raised in Phoenix and enjoys volunteering in the local community. He is a volunteer dentist at the John C. Lincoln Children's Dental Clinic, where his father has been a practicing physician at the hospital for more than 30 years. Dr. Mabry is also involved in Give Kids a Smile® a program through the Arizona Dental Association that provides dental care to underserved children.
In Dr. Mabry's free time, he enjoys golfing, road biking, mountain biking, running, swimming, hiking, skiing and generally enjoying the outdoors and spending time with his wife, family and friends.
Dr. Todd Mabry is an Arizona licensed dentist and an active member of the American Academy of Cosmetic Dentistry, American Dental Association and Arizona Dental Association. He has also been recognized as a Top Dentist by Phoenix Magazine in 2014 and 2015.
Dr. Mabry and his staff make going to the dentist as easy as possible. A warm welcome, prompt service, efficient and thorough treatment are just a few of the positive experiences at this office. I have had a great deal of dental work done and Dr. Mabry and staff are by far one of the best!
Dr. Mabry In the News
Dr. Mabry discusses the sugar content of popular drinks
Ask Dr. Mabry
If you would like to ask Dr. Mabry a question regarding your personal dental history, cosmetic dentistry and techniques, or general dental hygiene, please feel free to send him an e-mail by visiting our website's "Contact Us" page. Dr. Mabry will respond within 24 hours. If you have a more immediate question, get in touch with our office by phone at (480) 582-1358.
In cases of medical emergency, please dial 911.