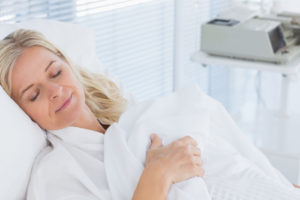 It's well-known that one of the top reasons people neglect to receive the oral care they need and/or desire is due to feelings of unease or even fear associated with visiting the dentist. At North Scottsdale Dental Studio, our team recognizes how bothersome dental anxiety can be, which is why our dentists offer sedation dentistry to help significantly diminish—or even eliminate—any concerns patients might have about their dental appointment or treatment.
Also referred to as "sleep dentistry," sedation dentistry is an advanced technique that allows our dentists to optimize the comfort and efficiency of an individual's time at our office, regardless of whether it's for a routine oral exam and cleaning or an intricate dental implant procedure. Based on the severity of your dental phobia and/or the complexity of treatment, our team can identify and employ the type of sedation—oral conscious sedation or IV sedation—that would be best for you. By administering the ideal sedation method, you can expect to remain completely relaxed and free of pain or discomfort throughout your treatment, enabling our dentists and hygienists to deliver an optimal quality of care.
If you or someone you know is neglecting professional oral care due to dental anxiety, or if you simply want to enhance the comfort and/or efficiency of a particular treatment, please don't hesitate to contact North Scottsdale Dental Studio to benefit from sedation dentistry today.
Previous Post
Next Post