About Dr. Anna Vaysman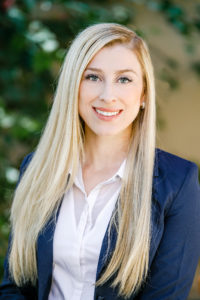 Dr. Anna Vaysman earned her Bachelor of Science degree in Integrative Biology from the University of California, Berkeley. She then moved to Arizona, where she attended Midwestern University and earned her Master's degree in Biomedical Sciences. Upon completion, Dr. Vaysman went on to earn her Doctorate in Dental Medicine (DMD) degree from Midwestern University – College of Dental Medicine. During her time in dental school, she was the only student to be on the class council all four years, and she won an award for her interest in better communication between students and faculty. She also spent time volunteering for numerous clubs and philanthropic efforts.
Dr. Vaysman was born in Minsk, Belarus and immigrated to San Francisco, California when she was four years old. She spent most of her high school and college years volunteering at various hospitals and laboratories, working as a surgical technician for an ophthalmologist, studying atrial fibrillation with an electro-physiologist and learning front and back office techniques from various general dentists and a pediatric dentist.
She is an Arizona licensed dentist and an active member of the American Dental Association, Arizona Dental Association, Southern Arizona Dental Society, American Student Dental Association and the Academy of General Dentistry. She is also involved in Give Kids a Smile® and Super Sealant Saturday, programs that provide dental care to underserved children.
Through her extensive education, Dr. Anna Vaysman has broadened her expertise in the field of dentistry, allowing her to offer her patients a growing array of care in fields ranging from restorative and cosmetic dentistry to BOTOX® for TMJ and Invisalign®.
Dr. Vaysman can speak fluent Russian and during her free time, she enjoys hot yoga, reading her kindle, skiing, dancing and hanging out with her family, friends and dogs.
Dr. Vaysman's Philosophy
"For each and every individual, I aim to provide comprehensive and thorough dental care with a focus on optimizing functional and cosmetic results. My goal is to do everything I can to make my patients happy following their treatment.
"During each appointment, I make a great effort to be as gentle as possible while attending to my patients' dental needs. I love being able to show people that dentists are not all evil creatures out to take people's money, but rather that dentistry is about helping people keep their teeth or replace teeth that can't be saved for optimal oral health. The end result is getting someone to love their smile and to be able to eat/chew comfortably and properly—which is a MUST to live.
"Changing a person's perspective of dentists from negative to positive while seeing them be able to chew or smile again is the best aspect of this profession. Dentistry is not barbaric anymore, and it can be done with minimal discomfort—as long as the patient is willing to let the dentist try."
Schedule an Appointment
If you would like to schedule an appointment with Dr. Vaysman, please contact North Scottsdale Dental Studio, so we can find a time that works best for you.